Do you have a clear path to get to where you want to be?
Do you want to improve efficiency and productivity within your facility? Do you know that you need to modernize to achieve your future goals but don't know where to start?

An operational walkthrough, a benefit to our AIMM Plus partners, is the perfect opportunity to partner your facility's goals and ambitions with the knowledge, experience and resources to realize them. Let us help you create a clear path to get you where you want to be.
What is an operational walkthrough?
Our operational walkthrough program is built upon continuous improvement methods to help progress your business goals through strategic improvements on the factory floor. The program is designed to continually identify, assess, and realize projects that address pain points and improve bottom line performance.

The operational walkthrough includes:
✓ A readout with consultative recommendations from our team of industrial experts
✓ A prioritized improvement strategy
✓ A plan of action to deliver selected projects
Focus Areas
Every operational walkthrough is tailored to the specific goals and needs of the facility. Below are the focus areas we can help analyze:

- Production output & efficiency
- Automation & robotics
- Digitalization & data flow
- Machine safety
- Security- Sustainability
Learn More
To learn more about our AIMM Plus agreements and the operational walkthrough contact your local Industrial Solutions Network location, AIMM Services Representative or fill out the Contact Us Form.
Our Process
1. Define Scope
Each walkthrough is always highly tailored to the facility and is designed to specifically focus on the most prudent business goals, challenges, and industry needs. We come ready to listen.
2. Establish a Baseline
The walkthrough tour will benchmark current performance and establish a baseline to improve upon. It is all about obtaining a clear picture of the existing operation. Alongside the walkthrough, we may use multiple other tools including modernization assessments, time studies, and security evaluations.
3. Prioritize Needs
We utilize the insight from the walkthrough to devise improvement opportunities, and then will collaborate with you to establish the importance and feasibility of each. For this, we leverage out industry expertise to provide you with multiple strategically aligned and high-impact project ideas.
4. Create Improvement Strategy
We utilize the walkthrough tour, its industrial experts, and your business drivers to create an improvement strategy unique to your enterprise. We strive to continually keep the customer involved at every step. Our aim is to create a vision that fully captures where you want to go and a strategy that excites you to get there.
5. Deliver a Solution
The operational walkthrough program is designed not only to identify improvement opportunities but also to make these opportunities a reality. For this, we do the heavy lifting by leveraging our network of local technology and delivery partners to complete project functions while also utilizing our project management expertise to ensure the project goes smoothly.
6. Keep Moving Forward
Lastly, as the modernization journey does not end with a single project, we aim to be a trusted advisor throughout. Even after the first projects are complete, we will keep going until you are where you want to be.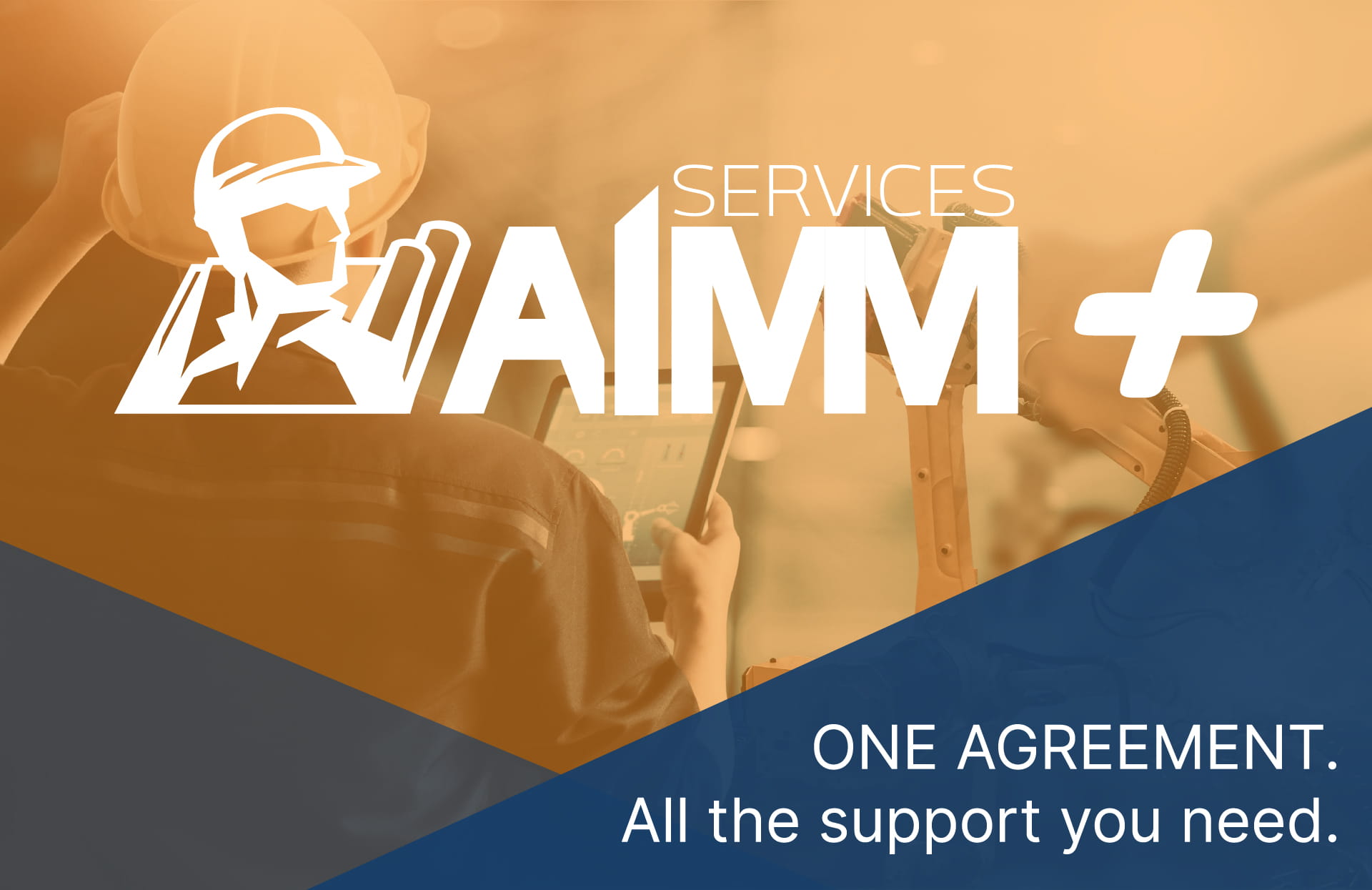 ONE AGREEMENT. ALL THE SUPPORT YOU NEED.
Become an AIMM Plus Partner and reap the benefits of a comprehensive, customizable program made for you.